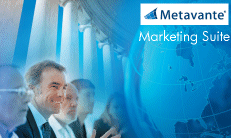 Metavante Marketing Suite
Heavy duty IT but designed for marketers, Metavante Marketing Suite is much more than a typical MCIF. It delivers the ability to increase the value of each relationship through a turnkey database marketing solution, from list development and segmentation to campaign management, reporting, and response analysis. It all adds up to a CRM system that delivers the insight you can use to increase customer retention, strengthen customer loyalty, and enhance bottom-line performance.
Enjoy a customer view that lets you customize marketing messages and promote the products customers seek. Metavante Marketing Suite is a database marketing solution that gives you:
A broad view of the customer
Convenient access to key CRM data
Automated campaign execution and management
Detailed campaign response analysis
Contact RPM today for more information about the Metacvante Marketing Suite.
GIS/MAPPING | HOME | MCIF CENTRAL | ABOUT RPM


Tell Us What You Think. Send mail to us!.