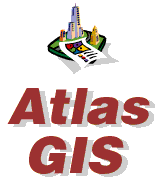 Atlas GIS -- the GIS for business when your business is business, not GIS -- is back.
Yes, Atlas GIS is back and it's better than ever. The easiest-to-use true GIS system for business has been updated to the 21st Century.
Click on the Atlas GIS links to the left to find out more about the 4.0 version of the software, the new Atlas 2010 geocoder based on our own enhanced TIGER files, the 2000 Census data products for Atlas as well as news about upcoming Census 2010 based data, and available Atlas support resources.